Free Monthly Delaware Home Buying Seminar
Next Seminar Dates:
The Delaware First Time Home Buyer seminar will last about 2 hours and each participant will be able to receive a complimentary copy of their tri-merge credit report. The Delaware home buyer seminar will cover all of the basics of buying a home in Delaware. The home buyer seminar will cover Delaware FHA loans, Delaware VA loans, Delaware USDA Rural Housing Loans, First Time Home Buyer Loan Programs and the Delaware FHA 203k Rehab loans.  Now is an amazing time to purchase a home with record low interest rates and home values in Delaware predicted to continue to rise.  You can purchase a home in DE and have a mortgagte payment equal to or even less than you are currently paying in Rent.  Real estate  is the number one way to build long term wealth, so come learn how to stop paying your landlord's mortgage and start investing in yourself as this DE home buyer class.
Watch What One Participant Has to Say About the Home Buyer Seminar
Each participant will receive a Complimentary Credit Scoring Handbook, Home buying Handbook, and an opportunity to meet with a certified mortgage planner to be pre-approved for a Delaware mortgage loan to buy a home in DE.
What will you learn at the Delaware Home Buyer Seminar?
You will also learn the following at the seminar:
Valuable Tips on How to Improve Your Credit Score
How to Establish Credit if You have None
How to Budget to Afford a New Home
How to Calculate How Much Your Qualify for
How to Get Pre-Approved for a Mortgage Loan
Learn what Mortgage Programs are available for Delaware First Time Home Buyers
Learn what programs are available to help with Delaware down payment assistance and closing costs
Learn what your Delaware Mortgage Lender should be doing for you
Learn what your Real Estate Attorney should be doing for you
Learn what your Delaware Real Estate Agent should be doing for you
Learn what your Home Inspector should be doing for you
How to find the right Realtor to help you find your new home
How to shop for your new home in Delaware
How to make the offer and negotiate the best price and terms
and much more!!!
Who Shoud Attend This Exclusing Delaware Home Buyer Workshop?
This DE home buying seminar is not just for first time home buyers.  Buying a home has changed drastically over the last several years so even an experienced home buyer can feel like a first time home buyer .  The following people would greatly benefit from information provided in this Home Buyer Class for Delaware Home Buyers:
Delaware First Time Home Buyers
Moved up buyers looking to sell and then buy
Individuals curious if they can buy a home wiht their current credit score
Individuals that need time and one on one coaching on buying a home (Get Mortgage Ready Program)
Empty Nesters Looking to downsize
Individuals seeking pre-approval or pre-qualification to purchase a home in DE
Individuals that want to learn about their morgage credit score and tips on improving it
Veterans, First Responders and Educatiors interested in special programs
Our Free Delaware Home Buyer Seminars are held at the following locations
Christiana Hilton Hotel

Delaware

Delaware Virtual Home Buyer Webinar

Delaware

Dover Holiday Inn

Delaware

eXp Realty Office - New Castle

Delaware

Hilton Garden Inn

Delaware
You can register by calling Facebook Ad DE at 302-703-0727, sending an e-mail to Delawaremortgages@yahoo.com, or clicking on the links below:
Your Presenter for the First Time Buyer Seminar is John R. Thomas, the author of the book,
Your Guide to Buying Your First Home in Delaware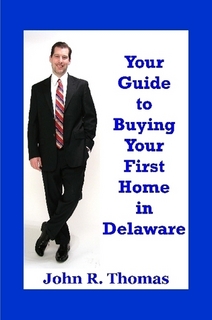 Delaware First Time Home Buyer
Delaware Home Buyer Seminars
Delaware Home Buyer Classes
Delaware Home Buyer Workshops
Opinions expressed on this website and in seminars and discussions belong to the individual and do not reflect the views held by Primary Residential Mortgage, Inc.